Monday Sep 13, 2021
HR's Role in Driving Organizational Success with Julie Salomone on We're Only Human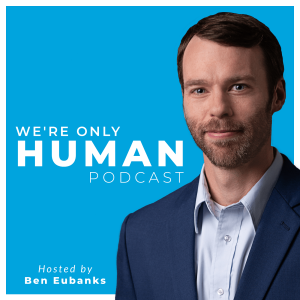 "That's step one is you have to build that partnership. And hopefully now that the iron is hot,  strike it. If you have been supporting your business and organization through this pandemic,  how do you take advantage of that and make sure that now your voice is in the room. Make sure that now you're using your voice and you're saying some of these things. I think HR has a unique perspective to your point--we don't cause a lot of these issues, but we help solve a lot of these issues."
Julie Salomone, VP of Global Human Resources, Televerde
We're Only Human -- Episode 126
In all the factors that wrap into what a company does, the people are the key enablers, doers, and makers. And HR is the keeper of the people. 
In this heartfelt episode, Julie Salomone of Televerde and host Ben Eubanks discuss how HR can step up and drive success for all initiatives, both talent-oriented and not. Julie talks about what inspires her as an HR leader and offers a clear call to action for today's talent professionals to step up and lead during challenging times. 
Resources: 
Connect with Julie: https://www.linkedin.com/in/julie-salomone-mahr-phr-3096212/ 
Learn more about Televerde and their unique approach to talent: https://televerde.com/who-we-are/model/ 
See our show archives, sign up for free updates, and more: http://lhra.io/podcast 
Comments (1)
To leave or reply to comments, please download free Podbean or